Read the entire article before you begin to do the actions described here! You will require certain files and information to successfully install a QuickStart package and, most importantly, you will require a complete installation of Joomla 3.x. You may say that it is quite obvious, but you won't believe if we told you how many websites got broken just because someone, who was too smart for his own good, tried to install a 3.0 package on 2.5 platform, believing that it will upgrade it.
The process of installing QuickStart package is almost as easy as installation of clean Joomla, but instead of a blank site, you will get every template and extension that the package includes. Your website will have the same functionality and appearance our demo page has.
IMPORTANT: If template includes some commercial extension, this extension will not be included into the package. Instead, you will have to go to the extension's page and purchase it in order to use the template.
What is a QuickStart package?
When you purchase a template from a template company, they usually provide you with two sets of links – for a template itself and for a QuickStart package that includes a basic installation of chosen CMS with template you bought and all extensions that are needed for their issueless work.
IMPORTANT: QuickStart and template package are really different! If you want to install a template, you need another tutorial. This one is completely on QuickStart packages.
So, as the name of our article manifests, you are going to use QuickStart package. Why? Well, because it's easier that adjusting template and every needed extension on your own. And since you usually apply a template on a blank site anyway, you do not have to care about losing important information in progress.
Step 1. Learning the System Requirements
Before you begin installation of Joomla on your server, you need to know if it can handle it. The server, that will be a foundation for your website will have to meet all Joomla 3.x requirements that are listed below:
PHP 5.3.1 or higher – 5.4+ is recommended;
MySQL 5.1 (or higher) or PostgreSQL 8.3.x
Apache 2. x or higher
XML and Zlib support: Your host's PHP installation should support XML and Zlib functionality.
Also you will have to disable Magic Quotes GPC in your PHP installation. If you are unable to do it, address the issue to your provider.
Step 2. Downloading and Extracting the Package
First you have to download a quickstart package. On our website, download area is located under Download > Template Category > Template name. Now you will be able to see all available packages. Click on Download button and choose Quickstart Package Joomla 3.2.
After you did it, go to your hosting cPanel (if there is one) and delete every file that exists in the root folder of your website. If you do not have a cPanel, you may use SSH (Secure Shell) or FTP connection, but then it will take quite a lot of time.
When using SSH, your webroot folder is located at httpdocs directory. If your website is currently active, it would be wise to make a back up.
Now upload the downloaded package to your server and install it with the help of cPanel (if your hosting provider has one). Or, you can unpack the package on your PC and upload the contents to the server via any decent FTP client. You may also use SSH for this, if you know how to use it. The first way is to be preferred, though, since it will help you to avoid some troubles later.
Step 3. Installing a Package
After you have extracted (or uploaded) all files into the root folder of your website, its time to begin the installation. Go to the main page of your website to access the installation screen.
After you have successfully accessed the installation screen, you will get into the installation guide. It will tell you everything you will need to know and since now this guide will only help you with difficult parts.
But first, you will require a database. Open a cPanel (you may do it in another tab in order not to close the installation screen) or any other server software your provider uses, and create a MySQL database using UTF-8 character set. You will also require a user for the database and a password for a user. Remember (or better, write down) database name, user name and password – you will need them later.
Now come back to the installation screen. Enter your Site Name and Site Description and then set username and password for administrator account. Click Next and prepare to be directed to the next step.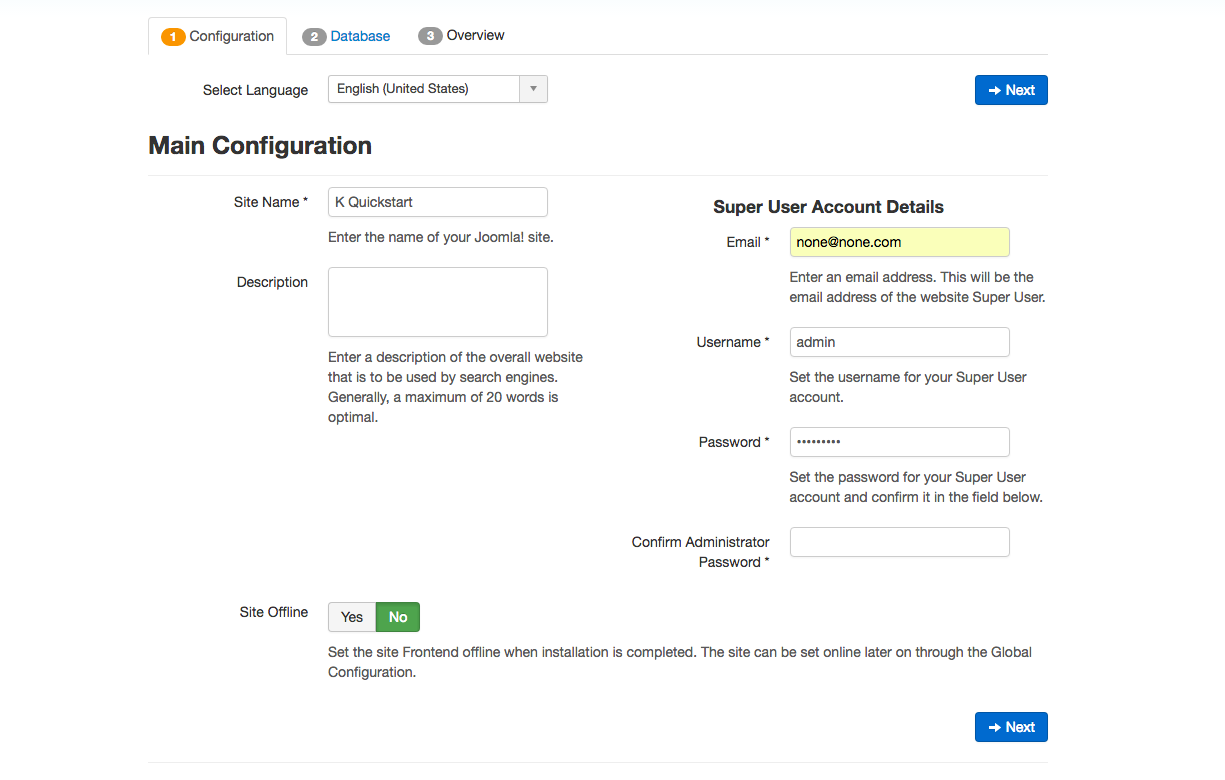 After you did it, you will be faced with next installation screen. It will ask you if you have created a new database and will demand database name, username and a password to go with it – that's why you needed to write it down. If you get an error message – check if the data you have written down or put into installer's fields is correct.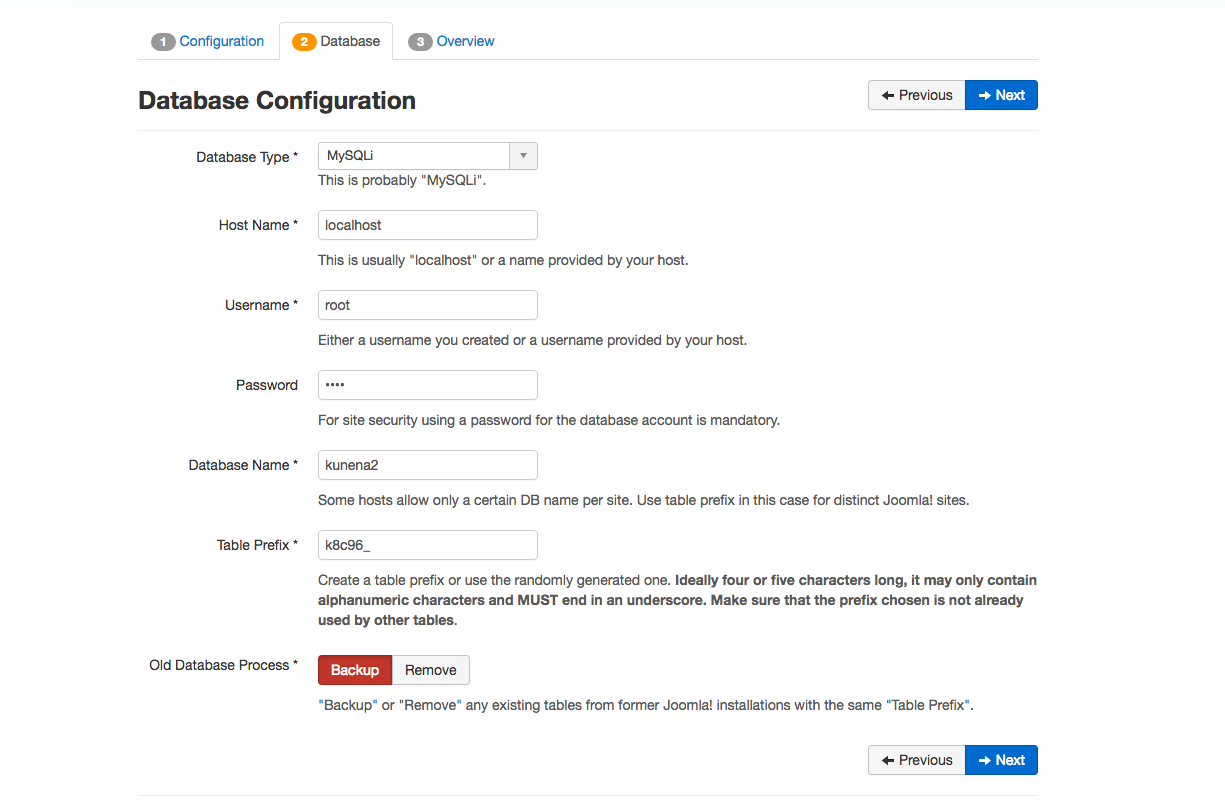 After you are done with Database Configuration screen, press the Next button. Now you will see main installation screen where you must choose Default English (GB) Sample Data and click on Install button. A progress bar will appear and after it - "Congratulations!" message.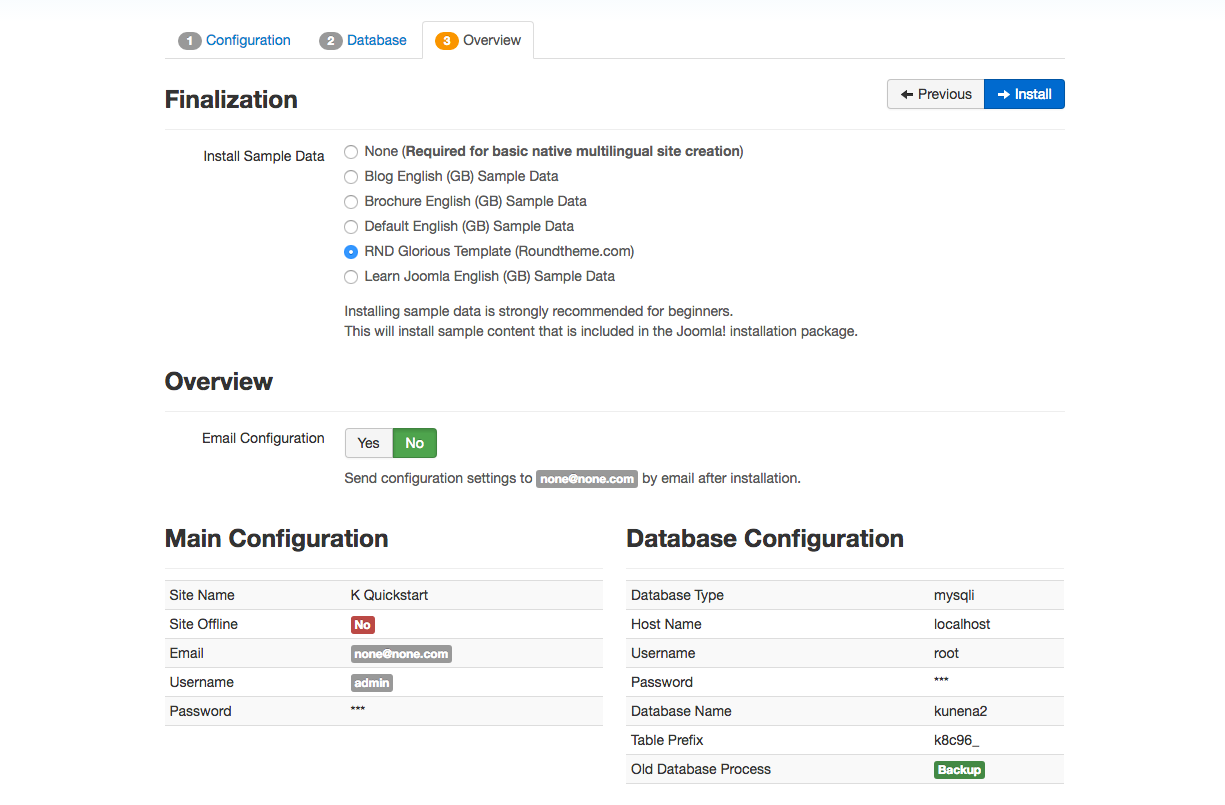 Step 4. Deleting the Install Folder
After the successful installation of Joomla!, there is one more thing you have to do, before you will be allowed to use your website. Choose what language packs you want to install for Main Page and Administration Panel. After you are done, press "Remove Installation Folder" button.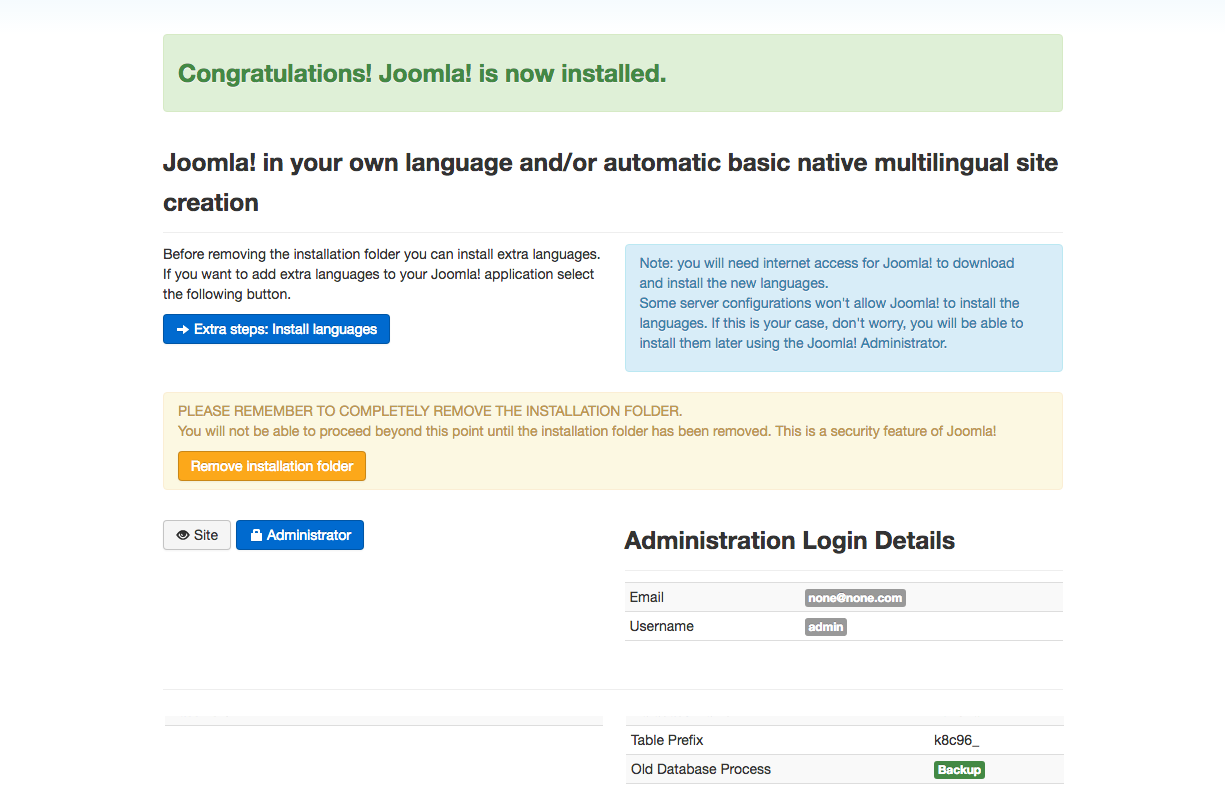 Congratulations! You have successfully installed Joomla 3.x QuickStart package and are now ready to adjust, change and customize it in any way possible. Just access the main page of your website (www.mysite.com) and you should be able to see the front-page of it.