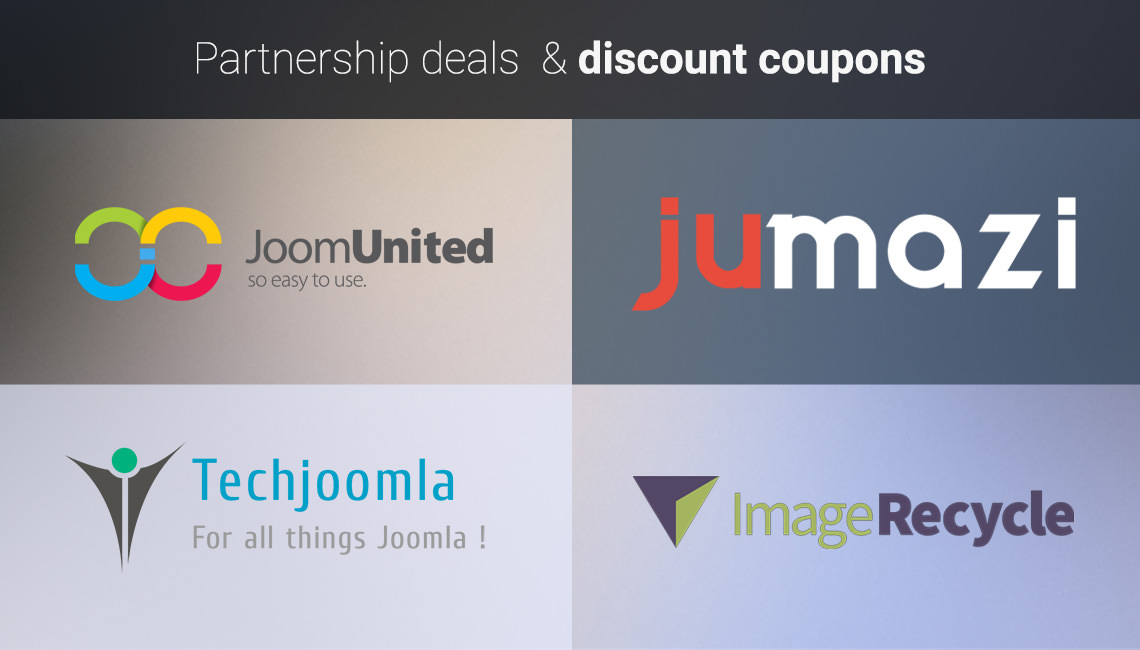 Partnership deals & new coupons
RoundTheme have established a partnership with following extension and service providers: JoomUnited, TechJoomla, Jumazi and ImageRecycle. All our clients can get discount coupons on all pricing plans from partners. You can read more about these providers and their services below.
---

JoomUnited provides a range of extensions for Joomla and Wordpress like galleries, file management, SEO, and general site management. Their products are well coded and, most importantly, very well supported.
They offer 2 level support to make sure our extension will work on your website
They respect the Joomla framework because our developer have solid experience
Extensions are designed and offer alternative and customizable layout to fit your needs
You can get 20% discount. Visit website


---

Techjoomla is brought to you by Tekdi Web Solutions - an established company working with Joomla since its inception. Launched officially in January 2009, Techjoomla is focussed on providing innovative, top notch solutions for the Joomla Community. Their popular extensions are Shika, SocialAds, Quick2cart, Invitex, JGive & JTicketing. You can get 15% discount. Visit website


---
Jumazi is a team of passionate Joomla developers creating simple and powerful Joomla products. They provide unique extensions as JMZ Easy Pagebuilder - a simplest way to build and manage pages in a few minutes without coding knowledge - there are just drag and drop suitable elements allowing to construct content visually that will save tons of time to a webmaster who's working on site content.
You can get 20% discount. Visit website


---

ImageRecycle is an online Image and PDF automatic optimizer. With an average of 25% of users that leave your website after 4 second of loading page, this is something crucial for your online business. And it's even more important on mobile were connection are usually slower.
Their unique algorithm is able to compress by up to 80% your PDF and images with a similar quality to the original. You can get 15% discount. Visit website


---
All our clients with active subscription plan can
get 15-20% discount
on any production of partners. You can find discount coupons in
Discounts section
.