Topics Auto Closer for Kunena
Compatibility
:
Kunena 5.0.*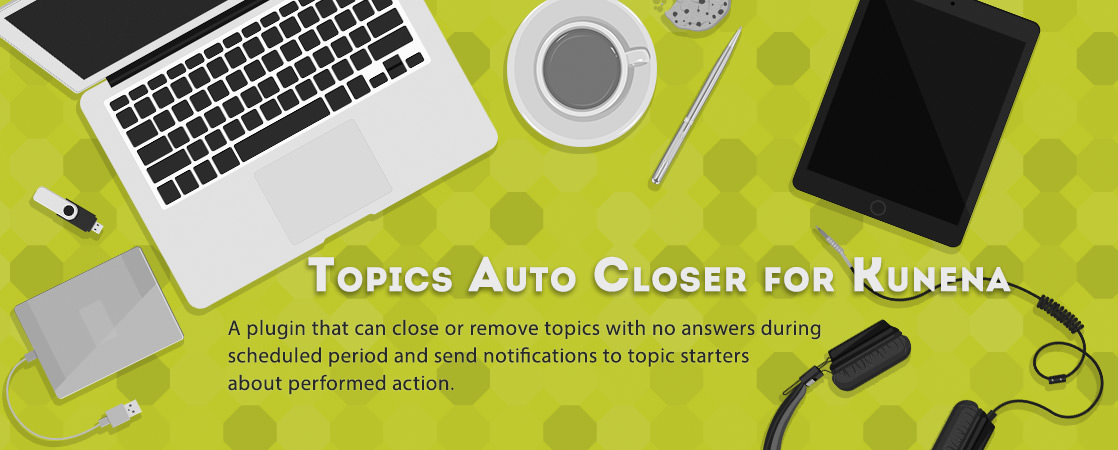 Description
Topics Auto Closer for Kunena is a plugin that can lock or remove topics with no answers during scheduled period of time. The plugin provides three actions: lock the topic, move the topic to trash or completely remove the topic from database. You can set up hours to run, choose the period of days after which the action will be perfomred and select categories where the plugin should work. Also it can send messages to e-mail and inform subscribers about performed action on the topic.
Topics Auto Closer for Kunena plugin supports cron job as server side technology to proceed the data which is actual for high-loaded sites.
Topics Auto Closer for Kunena:
Last Update: 29 November 2017
License: Free
Change log: View Changes
Example of usage:
Just imagine that there are a lot of categories on your forum, but you need to perform automatic actions only on category entitled as Support. You select it in plugin's settings and then set up period of days, i.e. 7 days and time for scheduler, i.e. 04:30. All topics that get no new posts during 7 days will be automatically locked or removed. Or you can set 90 days to perform action with topics without new posts.
Topics Auto Closer for Kunena is a must-have plugin for websites that consist of support forums where topics without answers should be automatically locked or even removed after scheduled period of time. It can help to keep up the actual information on the forum and clean it from the old threads in automatic mode. A useful add-on for moderation.
Changelog
Version 2.0.0
New Added Adapted for Kunena 5
Version 1.0.0
New Added Initial Release

Actions
The plugin can be configured to perform the following actions: to block the topic, to remove the topic to trash and to completely remove the topics from the database.

Time scheduler
You can schedule the time when the plugin will run database search. Also you can set up the period when topics without new posts will be processed.

Cron job & reports
The plugin supports cron job, so you can just add a cron task and get fine result. A message about the action can be send to users' e-mail who's subscribed on the topic.

Specify categories
Specify which categories should be proceeded with automatic action when no new posts appear. By default the value is set to All categories.