Extended Profile for Kunena
Compatibility
:
Kunena 4.0.12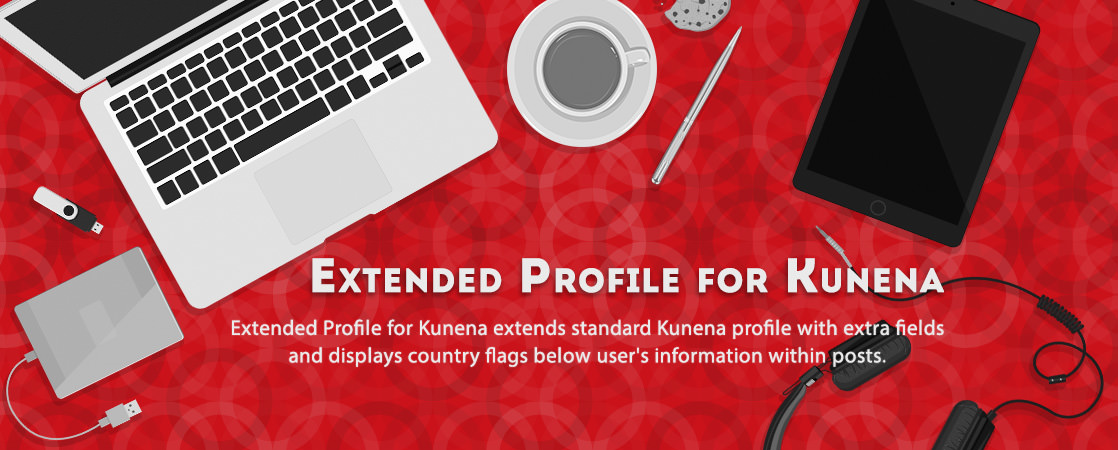 Description
Do you want to extend Kunena component with new features and get your forum profile looks similar to social network? Extended Profile for Kunena is an extension that extends standard forum profile with extra fields and displays country flags with country names in discussions below user's basic information.
The purpose of the plugin is to increase users' interaction and get forum more socialised with new fields that tells more about each user and help with communicaton. Also you can choose the size of icon set to display flag icons in preferable size (24x24 or 32x32). Extended Profile for Kunena package comes with two plugins: User profile and Kunena profile and support native template layout (Blue Eagle, Crypsis) and other templates using core profile layout.
Posts Pinger for Kunena:
Last Update: 11 June 2015
License: Commercial
Change log: View Changes
More information
Extended Profile for Kunena extends standard Kunena profile with extra fields and displays country flags below user's information within posts. This extension is a useful addition for those who want to add more social elements in Kunena and increase interaction between users. You also can choose icon pack (24x24 or 32x32 pixels size) for flag icons or disable this feature.
List of extended fields in profile:
Land phone
Mobile phone
Address
State
City
Country - a list of countries grouped by continents is displayed in profile edit mode
Education
Year of graduation
Installation pack consists from two plugins: profile plugin (with new fields) and Kunena plugin (provides integration with forum and allows to configure flags display). Also there is an option to include CSS to align flags and country names on center or disable loading of this CSS file, as well as override it via Joomla template.
Extended Profile for Kunena works with native Blue Eagle and Crypsis templates as well as with templates from other providers (it's fully compatible to all our Kunena templates) where edit profile layout equal to default themes.
Sources
Flag icons pack was taken from www.IconDrawer.com
If you wish to use icons pack on website, you must put a link to
www.icondrawer.com
on some static page of your site (like credits, license etc.), not in blog or news page. In case you don't want to place a link on icons author, you can buy royalty-free license.
Changelog
Version 1.0.0
New Added Initial Release
[features-extension-extendedprofile-kunena /]