RND Korder
Compatibility
:
Kunena 4.0.12
This product is no longer available.
Read more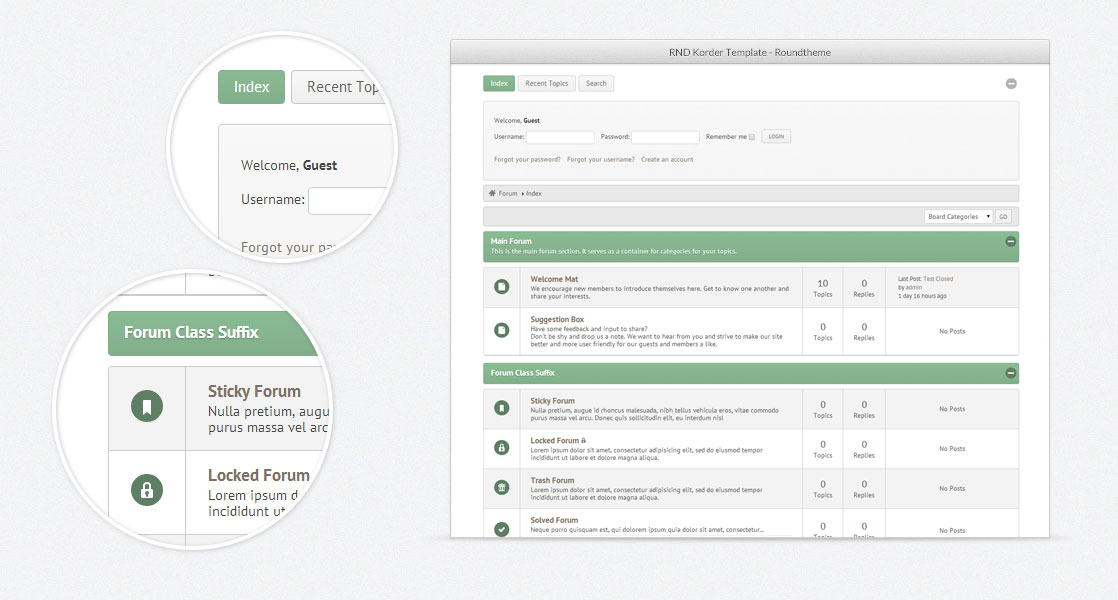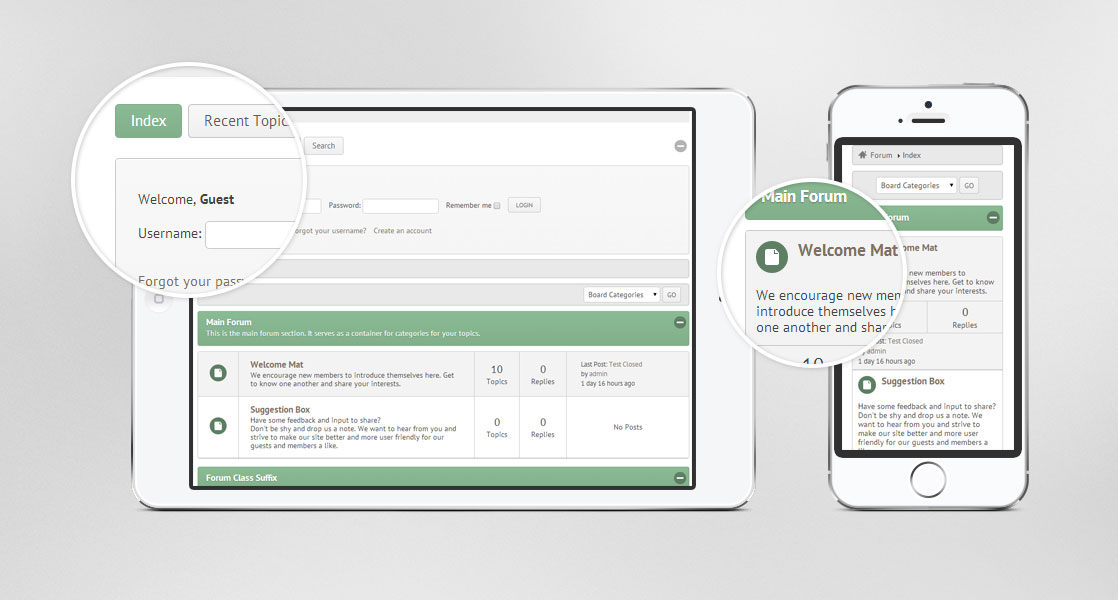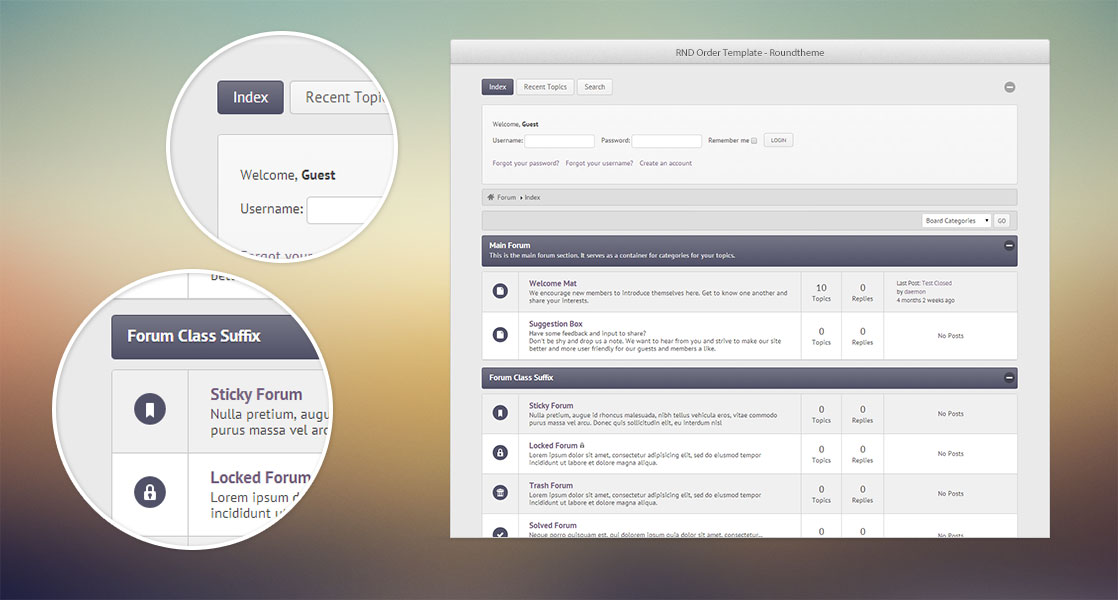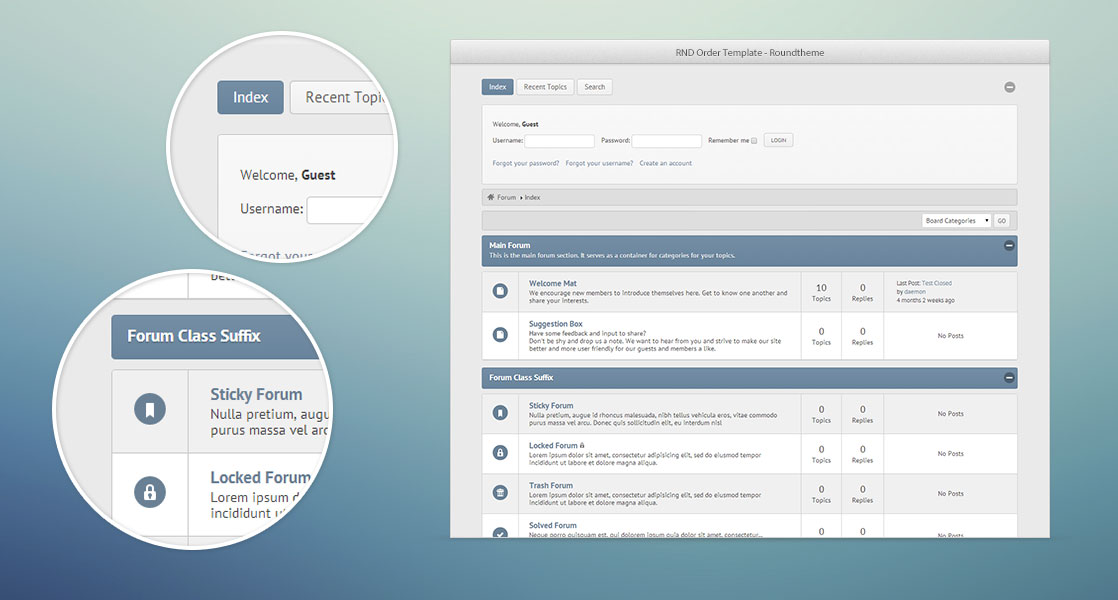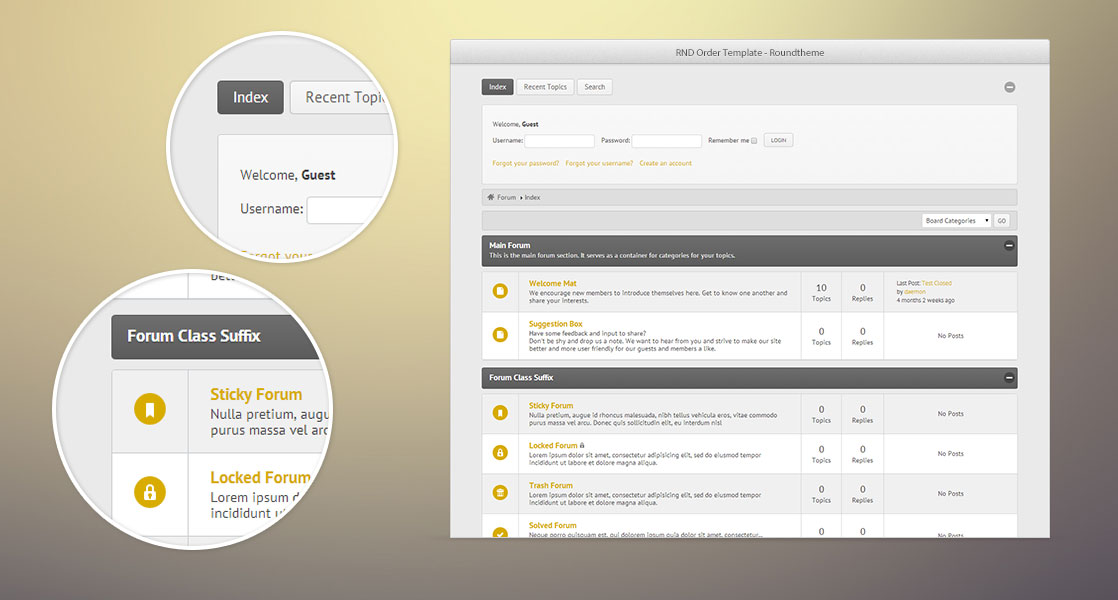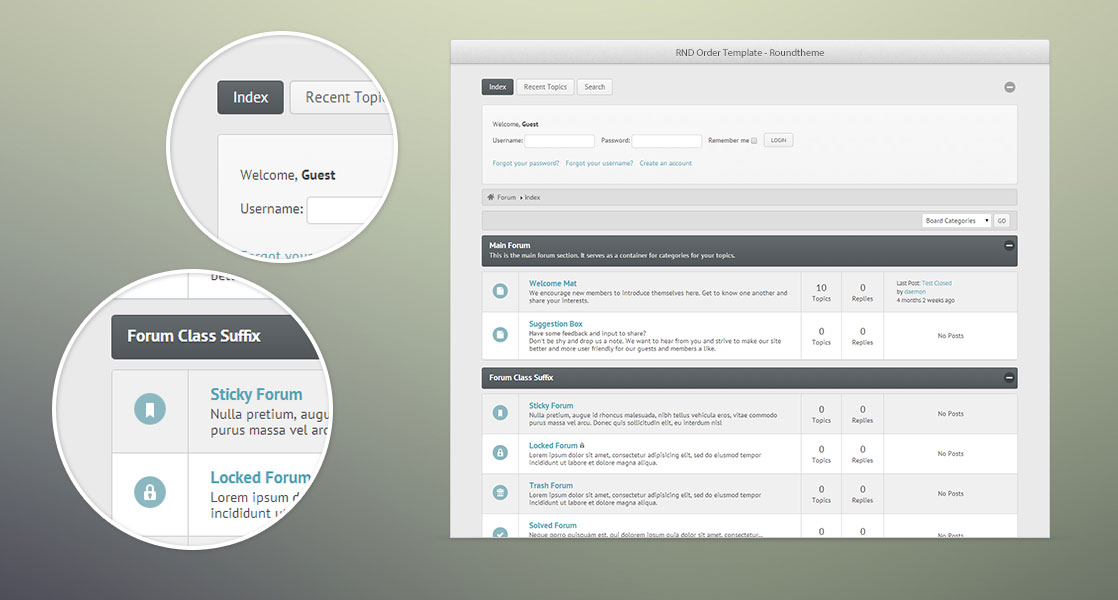 Note: this template is compatible to Kunena 4.0 only.
Description
The Korder template for Kunena is a very light and cheerful sight, designed to act as a sort of counterpart to the classical black-and-white/grey designs like KElegant. It is perfect for semiprofessional forum or a discussion club but, thanks to its customization ability and simple design, is not limited only to that.
The Korder features green as its major color, with classical black-and-white scheme for text fields. Korder is a next thing to a simple, yet extremely efficient forum template that makes you actually see the content of the forum instead of its decorations.
Quick information:
Last Update: 30 October 2016
License: Commercial
Change log: View Changes
Changelog
Version 2.1.5
Bug Fixed Fix Profile Editor (abolished required field)
Version 2.1.4
Bug Fixed Fix Captcha
Version 2.1.3
Bug Fixed Fix Birth Date in Profile.
Version 2.1.2
Bug Fixed Fix Search Bug.
Version 2.1.1
New Added "Allow to let user to change subject on replies".
Version 2.1.0
Bug Fixed Fix unused icons in Editor.
New Added Added dividing line Icons in Editor.
Bug Fixed Fix incorrect display fields and icons in Bootstrap.
Bug Fixed Fix Size Attach Files.
New Added Added three new parameters: unapprove post background, deleted post background, moved post background.
New Added Added support ReCaptcha v.2 + Added new parameter Captcha.
Bug Fixed Minor css fixes.
Bug Fixed Editor error
Version 2.0.1
Bug Fixed Topic icons path
New Added Added system topic icons
Version 2.0.0
Improved Configuration update to Kunena version 4.0
Version 1.3.0
New Added 'Google fonts' toggle parameter
Version 1.2.0
New Added Color Picker for parameters color;
New Added Slogin support;
New Added New parameters: Color Administrator, Color Global moderator, Color Moderator, Color User, Color Guest, Color Banned user, Color Blocked user, Color Offline and Color Online status;
Bug Fixed kunena.default.css and kunena.default.min.css
New Added Added new parameters;
Version 1.1.0
New Added 4 New Style in Template
New Added Custom css file in Template
Improved Update Kunena Forum in QuickStart
Improved Update Joomla in QuickStart
Version 1.0.0
New Added Initial Release

Easy Customize
Due to extremely powerful and easy to use Kunena customization engine, all of our templates have been handcrafted to perfection and are still available for you to add your own personal touch.

HTML 5 and CSS 3
These two standards provided us with very flexible and stable foundation for our templates and then our designers pushed them to their limits for both style and availabilities.

Easy to Start
Thanks to Joomla, all of our templates had been able to become very easy to install and configure, which lets anyone, no matter their experience with web-design, install and configure them.

Responsive Layout
All of templates on this website are created to be responsive and completely usable on any resolution that is higher than QVGA, which lets our customers not to waste their resources on mobile versions.

---