RND Kinstance
Compatibility
:
Kunena 5.1+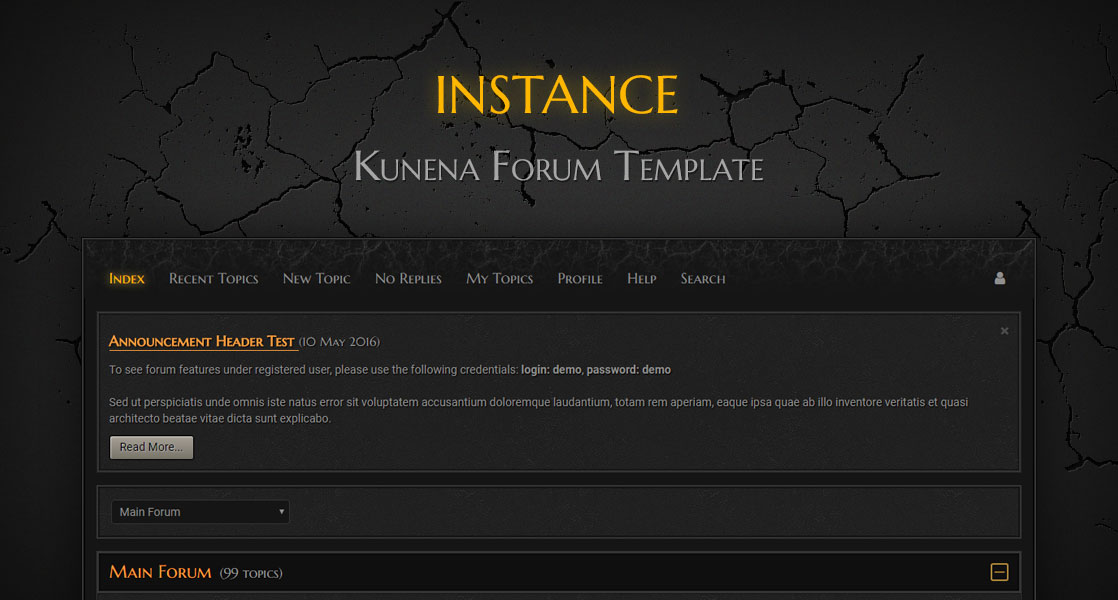 Description
RND Kinstance is a dark template for Kunena 5.1 which is ideal for gaming and gambling sites.
The template is fully responsive and based on Bootstrap 2. User interface has a new look: menu turned mobile friendly, all WYSIWYG buttons and topic icons displays as vector elements with Font Awesome. Developers can override LESS variables and minify CSS file via back-end settings.
There are 4 positions to display posts and new layout for user and edit user pages. Also you can display any Joomla login module in modal window.
Quick information:
Last Update: 2018-11-01
License: Commercial
Change log: View Changes
Video presentation:
Key features: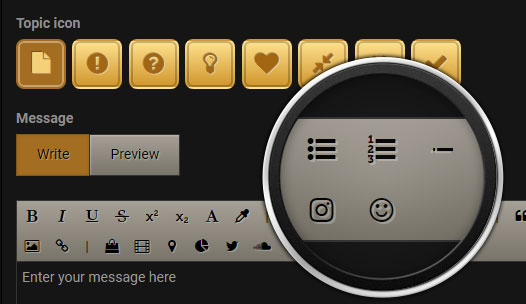 Vector icons via Font Awesome
Font Awesome is an iconic font and CSS toolkit that gives a scalable vector icons to be implemented in the site. All WYSIWYG editor buttons are displayed as font that provides high performance and fast loading speed.
Display topic icons as vector or images
Topic icons are displayed as font too. In some cases you may need to display topic icons as images. It can be done optionally via template settings. Image icons are stored in template folder.
---
Fully mobile friendly
RND Kinstance is fully responsive and works well on all devices. The template has mobile friendly menu & navigation. Try our demo on your mobile or gadget to be amazed!
Bootstrap 2 based template
The product has designed with Bootstrap 2 and comes as Kunena template, so you can get full solution to run a forum.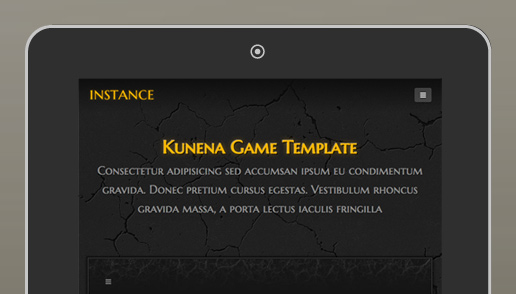 ---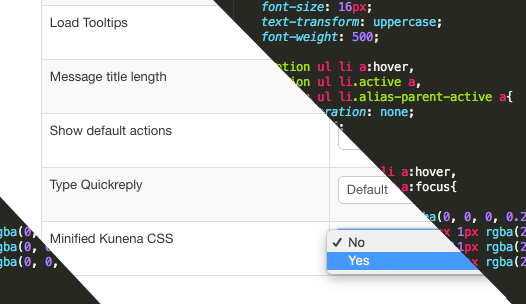 LESS compliance & CSS minification
All main colors are stored as LESS variables in variables.less, but for better usability you can change colors via template params. The CSS will be override automatically during the process of compilation, immediately after settings are saved.
Also it's possible to compile minified CSS for best performance result.
---
Dark Kunena 5 template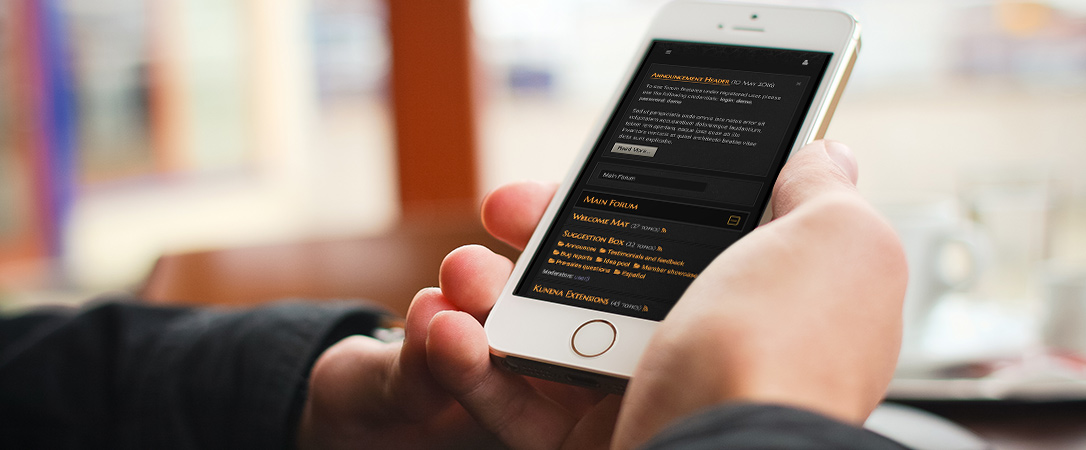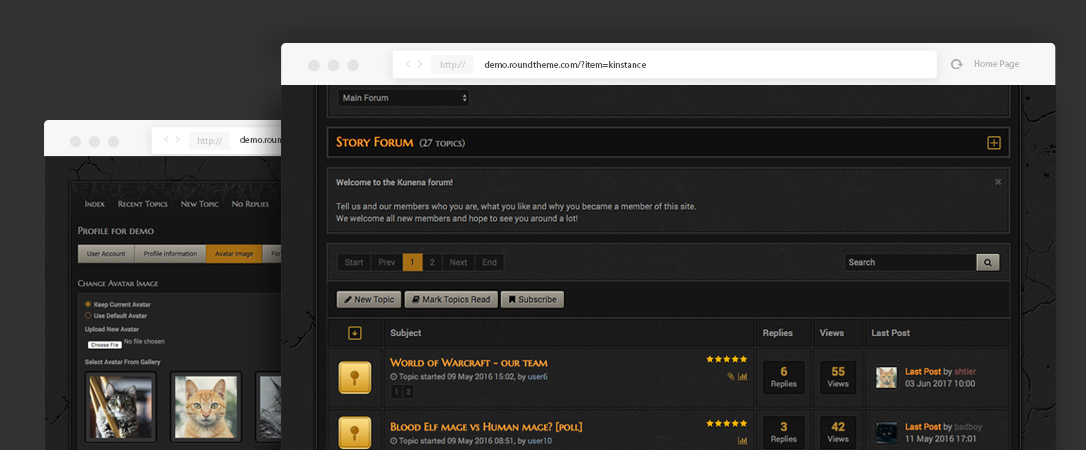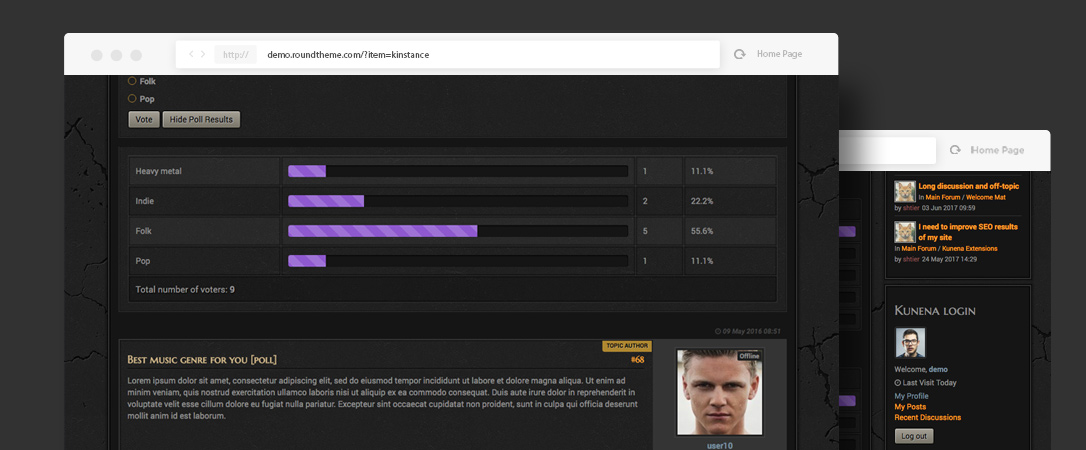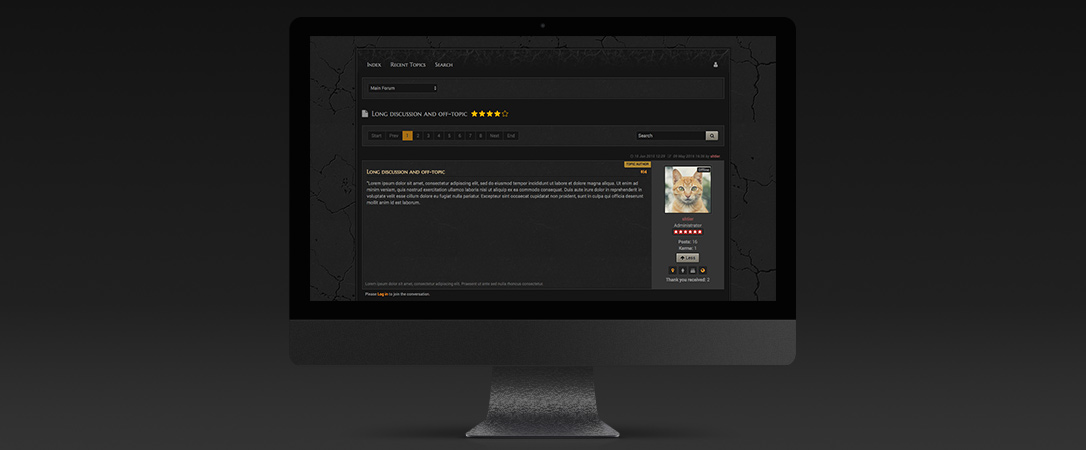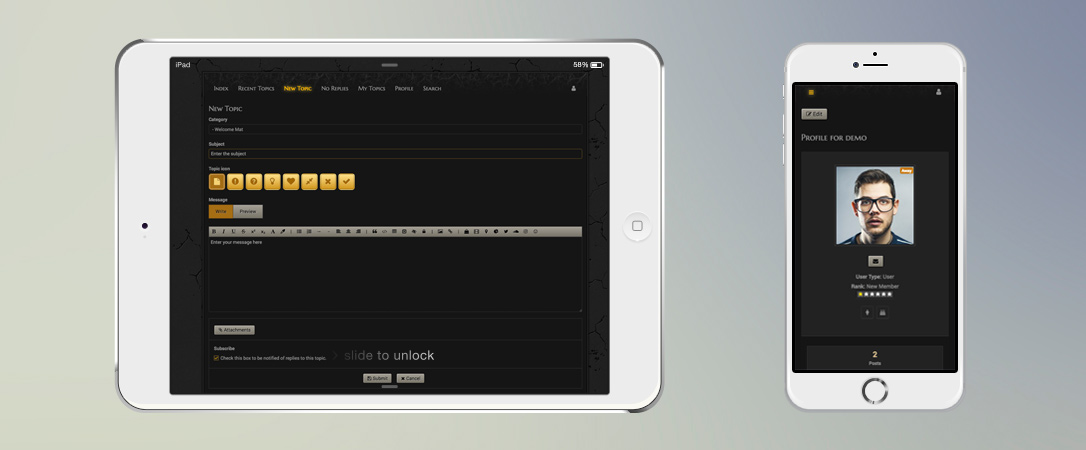 ---
The template has lot of improvements: there is a new layout and profile design, styles for core modules, also you can display any log in Joomla module in modal window.
Note: this product is designed to work with Bootstrap 2 compatible templates!
---
Changelog
Version 2.0.1
Bug Fixed Kunena 5.1.6 Security Fix
Version 2.0.0 Kunena Template
New Added Template Upgrade - compatibility to Kunena 5.1.5
Version 1.2.0 Kunena Template, Joomla Template, QuickStart
Bug Fixed Fixed bugs
New Added Added new option - pagination buttons as icons
Version 1.1.0 Kunena Template and Joomla Template
Bug Fixed Fixed bugs
New Added Added two new parameters
Version 1.0.0
New Added Initial Release

CSS minification
Minifying CSS takes the beautified, well formed CSS code that you have written and removes the spacing, indentation, newlines, and comments. You can optionally enable CSS minification and reduce the size of template.

Vector icons
All topic icons and buttons in WYSIWYG editor displays as vector icons with Font Awesome - the iconic font and CSS framework. It's ideal for mobile devices. Optionally you can override topic icons to images.

Login in modal window
The login interface of the forum is completely rewritten and new revamped version of user login displays in modal window. Optionally you can display any other Joomla login module.

LESS override
Less extends CSS with dynamic behavior such as variables, mixins, operations and functions and are vey useful in development. Now you can override LESS variables via template param.

Easy to Customize
Due to extremely powerful and easy to use Kunena customization engine, all of our templates have been handcrafted to perfection and are still available for you to add your own personal touch.

HTML 5 and CSS 3
These two standards provided us with very flexible and stable foundation for our templates and then our designers pushed them to their limits for both style and availabilities.

Easy to Start
Thanks to Joomla, all of our templates had been able to become very easy to install and configure, which lets anyone, no matter their experience with web-design, install and configure them.

Responsive Layout
All of templates on this website are created to be responsive and completely usable on any resolution that is higher than QVGA, which lets our customers not to waste their resources on mobile versions.
---
Bundle offer
€99.00
Get all RoundTheme products for 6 months worth of €410 just for €99 and save €311 of the total price!
6-month access to updates and support
Lifetime Bundle
$€199.00
Get Lifetime subscription on all RoundTheme products and save loads of funds. An optimal choice for studios & small business.
Lifetime access to updates and support