RND Darken
Compatibility
:
AcyMailing 5.5.0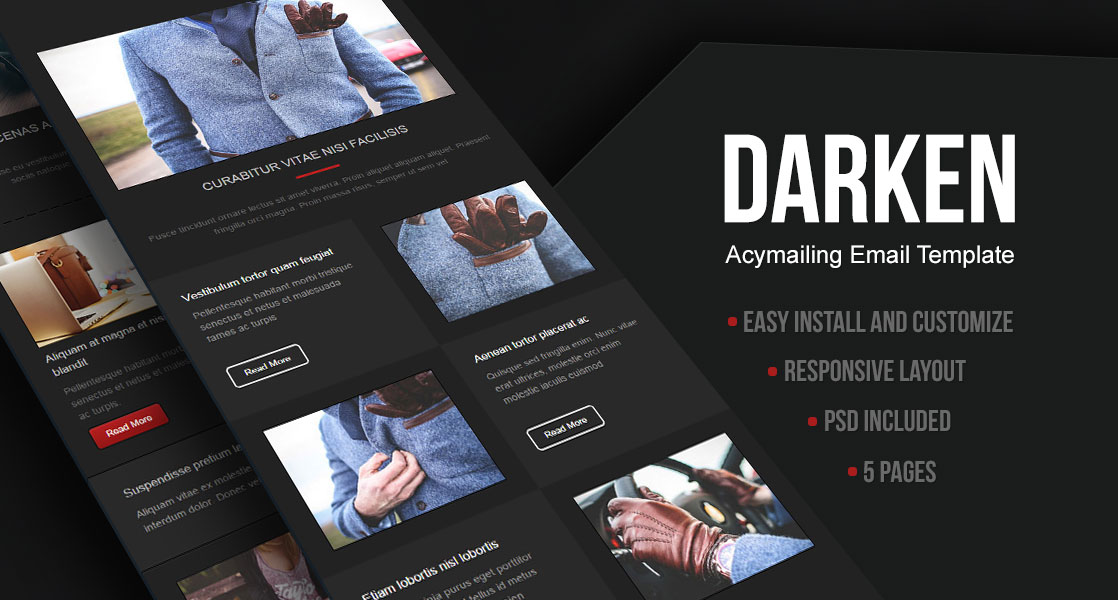 Description
Corporate solutions means simple yet strict style focusing clients' attention on the subject of subscription and use color palette to increase impressions. RND Darken is a black template for AcyMailing to be used in various subscriptions: clothing, fashion and accessories, interior design, music band or concert posters, luxury life and is very suitable for special product promotion especially if it's a brand landing page.
The template comes with nice 5 styles with mobile friendly design and ready to use for promotion of your products. RND Darken includes source files (featuring icons, photos, etc…) for easy customization according to your requirements.
Quick information:
Last Update: 15 September 2015
License: Commercial
Change log: View Changes
This product is no longer available.
Read more
More Information
RND Darken is a corporate template for AcyMailing made in dark gamma and contrast colors coming with clean and ascetic style to meet strict design which is best for organizing subscription presenting new collection of clothing or shoes, a brand new fashion or modern interior designs, gaming industry or personal portfolio style, for announcing new game or accessories and etc. Template in dark colors highlights the product you're advertising, focuses attention on content and looks attractive at the same time. RND Darken is fully responsive and compatible with all modern and popular e-mailing software or readers.
RND Darken has 5 neat styles that can be choosen according your task and comes with source files including preview images, installation packages, icon sets, default images and other stuff to provide you all necessary elements for quick customization. You can replace icons at another ones from icon set, add your images and bring the template new look.
Sources and sets in use:
Changelog
Version 1.0.0
New Added + Initial Release
Join Now!
Join today for instant access to all our templates!
Demo Page 1

---
Demo Page 2

---
Demo Page 3

---
Demo Page 4

---
Demo Page 5


---