RND Aqua
Compatibility
:
AcyMailing 5.5.0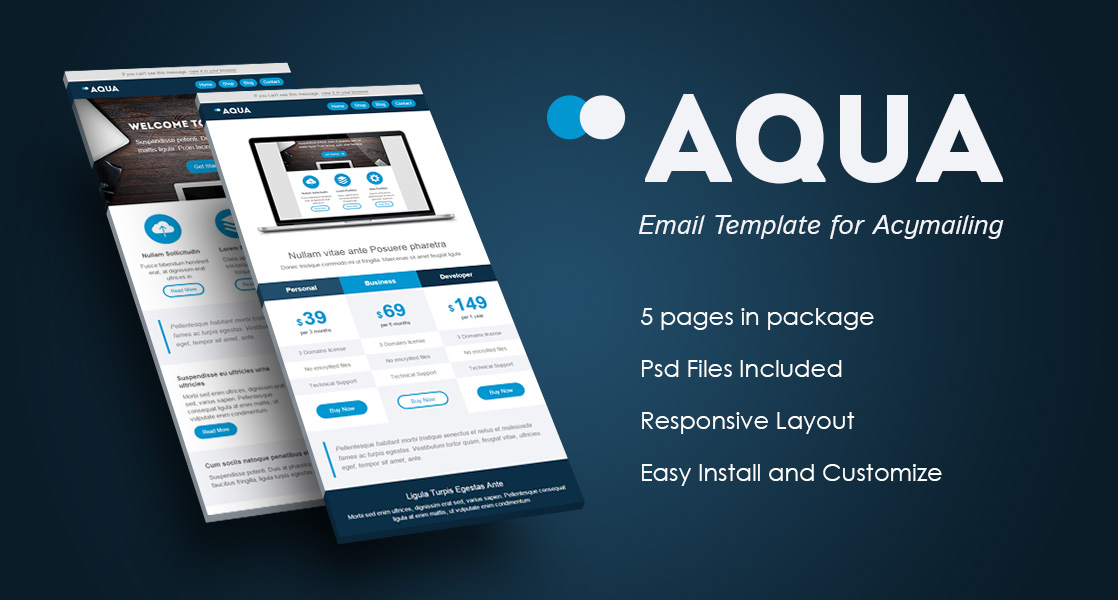 Description
Feeling the fresh and morning breeze are the associations that are forming positive background and the best way to attract client's attention is showing information in a nice look. RND Aqua is a universal template for AcyMailing component representing modern style and using aqua associations in design. The template is mobile friendly and compatible with modern e-mail readers and web interfaces.
RND Aqua comes with 5 additional styles, so you can choose the best design suitable to your site conception or customise styles - there are sources files including mockup, photos and icon sets, so you can customise template style according to your needs.
Quick information:
Last Update: 22 November 2015
License: Commercial
Change log: View Changes
This product is no longer available.
Read more
More Information
RND Aqua is a modern template for AcyMailing - the best Joomla! e-mailing extension. Newsletters management on regular basis let you to keep your clients informed about latest news, products and events, but you can increase loyality of readers using professional template and increase sales rate. RND Aqua comes with responsive design and 5 styles to meet different requirements. It is made in a nice aqua style with water palette and you can just choose any style and use it directly. Also it's easy to customise - there are source files including all necessarry elements, so you can replace images, background, use new icons or change colors and it all is easy with RND Aqua.
The application area is wide: you can be involved into daily blogging or manage corporate site, sell products or offer services - RND Aqua is nice to use to represent these subjects. Just get this theme and see how professionall your newsletters will become!
Sources and sets in use:
Changelog
Version 1.0.0
New Added + Initial Release
Join Now!
Join today for instant access to all our templates!
Demo Page 1

---
Demo Page 2

---
Demo Page 3

---
Demo Page 4

---
Demo Page 5


---