RND Air Mail
Compatibility
:
AcyMailing 5.5.0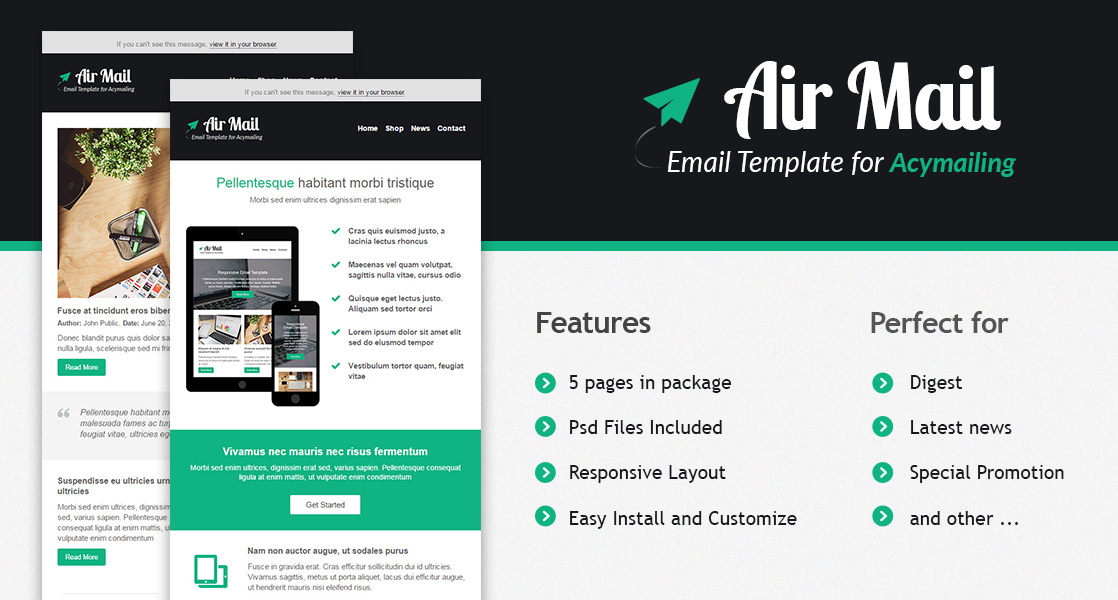 Description
Attractive design is a key to make your business successful and the right perception of the information will increase interest of the auditory to your products and services. Newsletter with nice design can do that. RND Air Mail is a professional e-mailing template for AcyMailing - one of the best Joomla! extensions for managing newsletters.
RND Air Mail is a responsive template and comes with additional 5 styles that makes template universal and ready to use on different websites. It's also easy to install and set up RND Air Mail. Source files are included, so you can customise the details according to your needs: to change colors, replace icon sets or images. Turn your newsletter on professional way with RND Air Mail!
Quick information:
Last Update: 15 January 2016
License: Commercial
Change log: View Changes
This product is no longer available.
Read more
More Information
RND Air Mail is a universal template for AcyMailing - the best e-mailing extension for Joomla! The template follows with modern flat design and made in diamond/light colors to meet design trends. It's fully responsive and friendly to modern e-mail software (Mail, Outlook Express, The Bat, etc.) and browser standards. Regardless of device, your client will get newsletter in a nice look.
Due to the flexible structure, RND Air Mail offer 5 additional styles, so it is perfect for digest, latest news, special promotion and other area of use. Also it's easy to install and configure to meet your requirements. Experts can take source files to make changes and customise the template. Colors, fonts and images - you can change them via backend. Also icon set is enclosed, so you can change icons according your conception.
Sources and sets:
Changelog
Version 1.1.0
Bug Fixed Fix Buttons in Outlook 2007
Bug Fixed Fix Price Boxes in Outlook 2007
Version 1.0.0
New Added Initial Release
Join Now!
Join today for instant access to all our templates!
Demo Page 1
---
Demo Page 2

---
Demo Page 3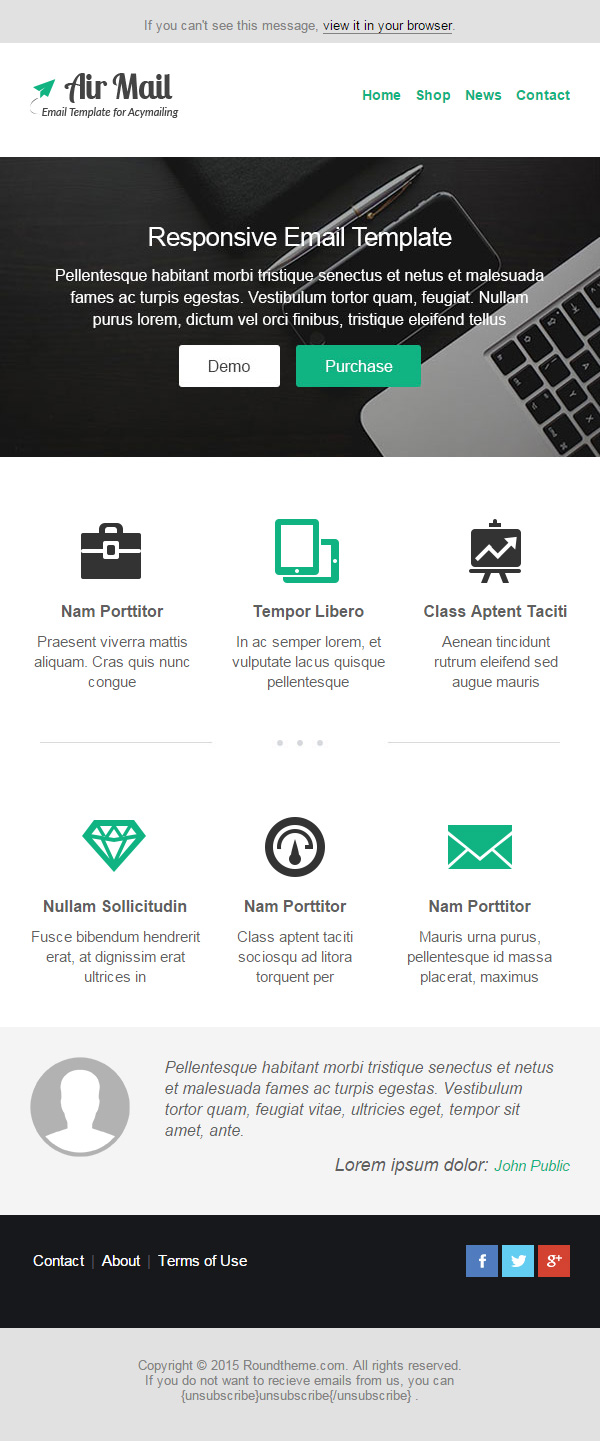 ---
Demo Page 4

---
Demo Page 5


---